What would you like to explore?
Clause No. 14.7.6
Right of the Hutment Dwellers
i) Hutment-dwellers, in the slum or on the pavement, eligible in accordance with the provisions of this Regulation shall in exchange of the protected dwelling structure, be given free of cost a residential tenement having a carpet area of 27.88 sq.m. including balcony, bath and water closet, but excluding common areas. For this purpose, "carpet area" means the net usable floor area within a tenement excluding that covered by the walls or any other areas specifically exempted from floor space index computation as per prevailing Regulation.
ii) Even those protected dwelling structures having residential areas more than 27.88 sq.m. shall be eligible only for 27.88 sq.m. of carpet area where Carpet area means area of tenements as mentioned in (i) above.
iii) All eligible hutment dwellers taking part in the SRS shall have to be rehabilitated in accordance with the provisions of these Regulations. It may be in situ and in the same scheme as far as possible.
iv) Pavement dwellers and hutment dwellers in the slum on land required for vital public purpose or such location which are otherwise unsuitable for human habitation or nonsuitable due to other statutory restriction shall not be rehabilitated in-situ but in other available location and in accordance with these Regulations. Competent Authority appointed by the State Government in Housing Department shall on the basis of verification of documents, as may be prescribed, shall decide on the eligibility of hutment dwellers.
v) The eligibility of a person including a transferee, under a scheme of Slum redevelopment shall be established in accordance with Chapter I B of Slum Act, and orders issued thereunder.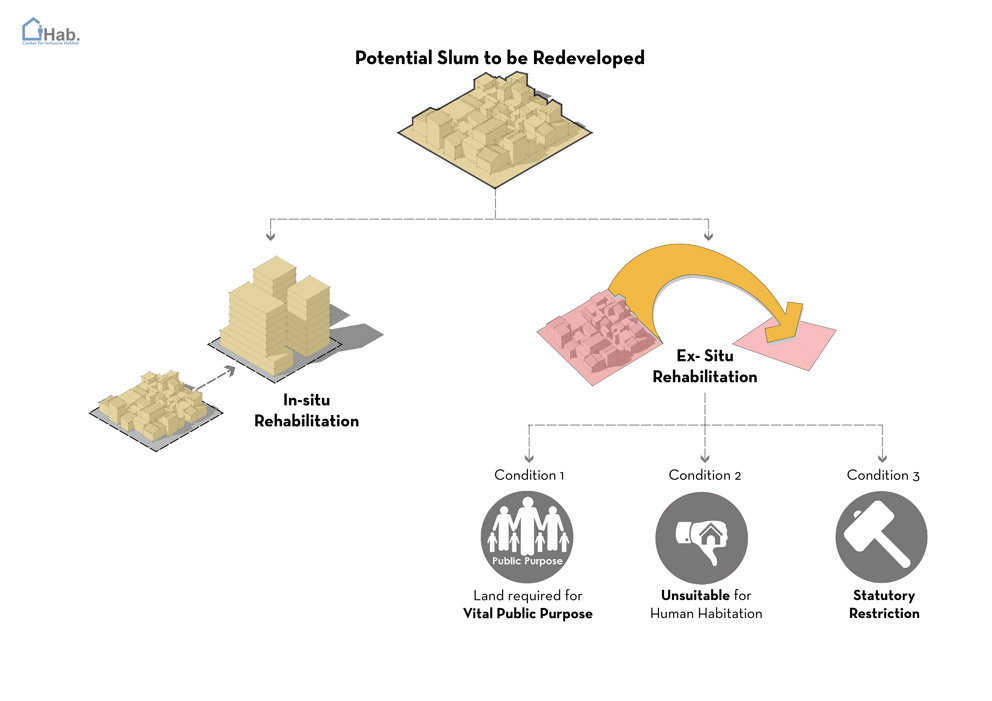 vi) The eligibility of a person including a transferee, under a scheme of Slum redevelopment shall be established in accordance with Chapter I B of Slum Act, and orders issued thereunder.
vii) An individual agreement entered into between hutment-dweller and the owner/developer/co-operative society/ NGO shall be in the joint names of pramukh hutment dweller and spouse for every protected dwelling structure
viii) Hutments dwellers in category having a differently abled person or female headed households shall be given first preference in allotment of tenements. Thereafter lots shall be drawn for allotment of tenements from the remaining tenements to the other eligible hutment-dwellers before grant of occupation certificate to rehab Building
ix) Transfer of Photo passes- Since, only the actual occupant at present will be eligible for redevelopment; there shall be no need to regularize the transfers of photo passes that have occurred so far. A photo pass will be given after the new tenement has been occupied.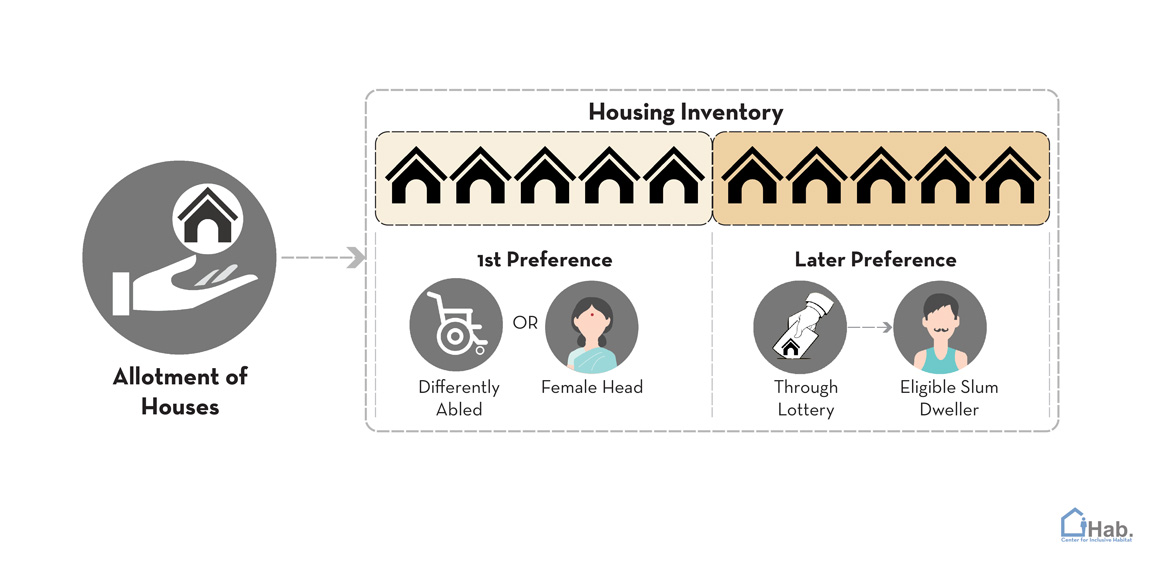 x) Any person who owns a dwelling unit on ownership basis in Municipal Corporation areas, shall not be held eligible under the scheme. Any person who can be held eligible under more than one SRS, shall be held eligible in only one scheme.
xi) Premium for ownership and terms of lease -That part of Government / Municipal Corporation /MHADA land on which the rehabilitation component of the SRS will be constructed, shall be leased to the Co-operative Housing Society of the slum-dwellers on 30 years lease period. Annual lease rent of Rs. 1001 for 4000 per sq.m. of land or part thereof shall be payable and lease shall be renewable for a further period of 30 years at a time. Simultaneously land under free sale component shall be leased directly to the Society/Association of the purchasers of the tenement under free sale component for 30 years with a provision for further renewal for a period of 30 years at a time. The lease rent for the free sale component shall be fixed by SRA. Further, the Developer/Co-op. 
Housing Society shall pay premium at the rate of 25% of ASR of the year of issue of LOI, in respect of SRS proposed to be undertaken on lands owned by Government, Semi-Government undertakings and Local Bodies and premium shall go to land owing authority such as MHADA, Municipal Corporation, MMRDA, as the case may be. The premium instalment so recovered shall be remitted to concerned land owing authority within 30 days from the date of recovery. In the case of Government land, the premium shall be deposited in Nivara Nidhi. The amount of premium shall be recovered in instalment as may be prescribed by Govt. from time to time. Land owning authority such as Municipal Corporation, MMRDA, MHADA shall not recover land premium in any other form. Proposals for SRS on land owned by Central Government shall not be accepted unless NOC for the scheme is obtained from Central Government.
xii) Automatic cancellation of Vacant Land Tenure and leases- If any land or part of any land on which slum is located is under vacant land tenure, the said tenure/lease created by Municipal Corporation or Authority shall stand automatically terminated as soon as letter of Intent is issued by SRA for a SRS, which is a public purpose, on such land is prepared and submitted for approval to the SRA. Any arrears of dues to be collected by Municipal Corporation shall not be linked to the issue of any certificate or NOC relating to the Slum Rehabilitation Scheme. On sanction of SRS, rights of Imla malik, municipal tenants or any other tenancy shall stand terminated in respect of the sanctioned SRS.
xiii) Recovery of pending dues such as assessment, compensation, occupational charges, nonagricultural tax/dues etc. pending with public authorities such as State Govt, MHADA, and/or Municipal Corporation shall be dealt with separately and not be linked to grant of approval or building permission to the slum rehabilitation projects.
xiv) A Slum Rehabilitation Project shall be considered preferably when submitted through a proposed or registered co-operative housing society of hutment dwellers on site. The said society shall include all the eligible hutment on site while submitting the S.R. Scheme and give an undertaking to that effect to SRA.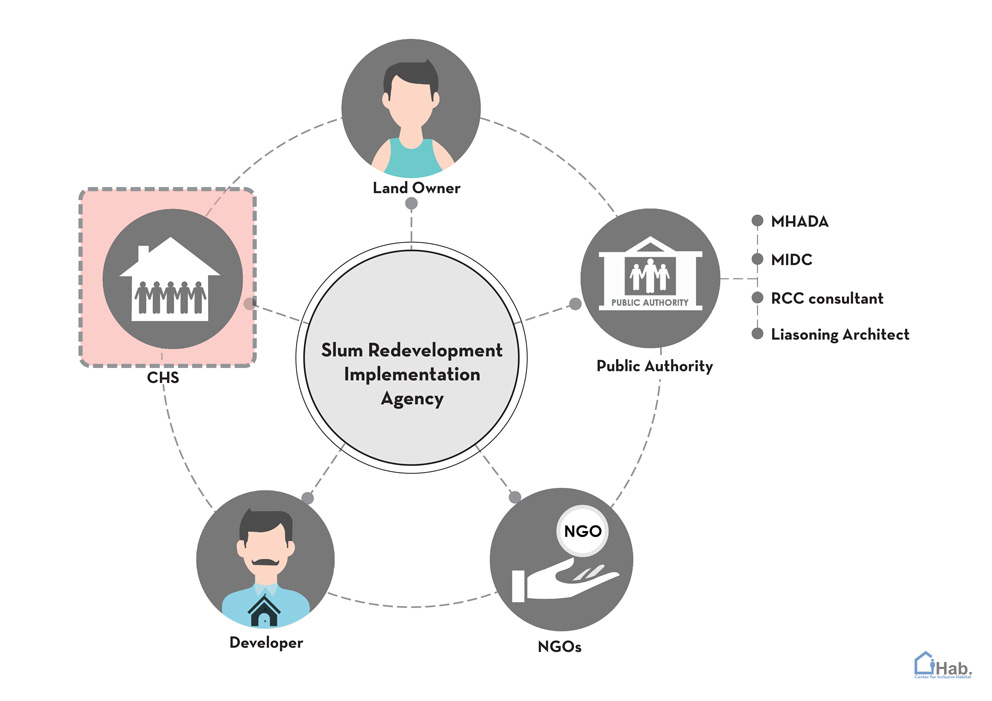 xv) Where 51% percent or more of the eligible hutment-dwellers in a slum and stretch of road or pavement contiguous to it at one place agree to join a rehabilitation scheme, it may be considered for approval, subject to submission of irrecoverable written agreements of eligible hutment-dwellers before LOI. Provided that nothing contained herein shall apply to Slum Rehabilitation Projects undertaken by the State Government or Public authority or as the case may be a Govt. Company as defined in Sec. 617 of the Companies Act 1956 and being owned & controlled by the State Government
xvi) In respect of those eligible hutment-dwellers on site who do not join the Project willingly the following steps shall be taken:
Provision for all of them shall be made in the rehabilitation component of the scheme.
The details of the tenement that would be given to them by way of allotment by drawing lots for them on the same basis as for those who have joined the Project, will be communicated to them in writing by the Managing Committee of the Cooperative Housing Society if it is registered, or the developer. In case of dispute, decision of the CEO, SRA shall be final and binding on all the parties concerned.
The transit tenement that would be allotted to them or rent payable would also be indicated along with those who have joined the Project.
If they do not join the scheme within 15 days after the approval has been given to the Slum Rehabilitation Project on that site, then action under the relevant provision including Sections 33, 33(A) and 38 of the Slum Act, as amended from time to time, shall be taken and their hutments will be removed, and it shall be ensured that no obstruction is caused to the scheme of the majority of persons who have joined the scheme willingly.
After this action under the foregoing clause is initiated, they will not be eligible for transit tenement along with the others, and they will not be eligible for the reconstructed tenement by lots, but they will still be entitled only to what is available after others have chosen which may be on the same or some other site.
If they do not join till the building permission to the Project is given, they will completely lose the right to any built-up tenement, and their tenement shall be taken over by the SRA, and used for the purpose of accommodating pavementdwellers and other slum dwellers who cannot be accommodated in-situ etc.
xvii) The Managing Committee of the proposed as well as registered Co-operative housing society of hutment dwellers shall have women to the extent of one-third of the total strength of actual members on the committee at any time.
xviii) Restriction on Transfer of Tenements; the tenement obtained under this scheme cannot be sold/leased/assigned or transferred (except to legal heir) in any manner for a period of ten years from the date of allotment/possession of the tenement. In case of breach of conditions, except transfer to legal heir, the tenement will be taken over by SRA.